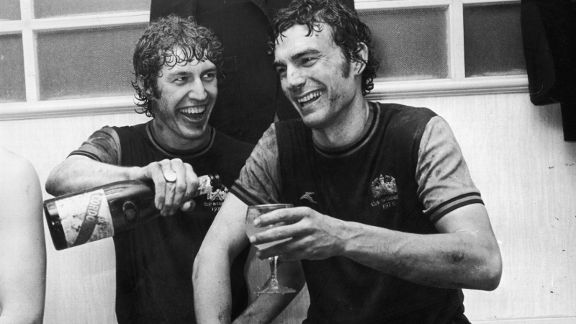 GettyImages: West Ham
United's Pat Holland (left) and Trevor Brooking share a glass of champagne after a
European Cup Winners Cup match in 1976.
Younger readers may be surprised to learn that there were times when a European football night wasn't preceded by heavenly choirs, the dulcet tones of Adrian Chiles, Roy Keane's twinkling Irish charm or a large screen on which an ex-England international gets to play a sort of prematch FIFA Xbox game.

In fact, in those far distant days, when steam radio was king; before the coming of the sainted Tim Berners-Lee (inventor of the World Wide Web), Sky Sports and its associated satellite coverage, all you got - if you were lucky - was live second-half coverage on Radio 2 and highlights on BBC TV at 11:30, and then only if the tie was played on a Wednesday to coincide with the BBC's "Sportsnight" show and your team was involved in the round's "glamour" tie. If Liverpool were playing Real Madrid on the same night, there was a good chance you'd only hear a brief report of your team's progress from the ground on a crackling telephone line, accompanied by a static photograph of the correspondent covering the game.

So imagine the scene in thousands of homes in the East End of London one winter evening in 1976, as Hammers fans turned on their valve radios to hear the second half of a match from Holland: "Welcome to the Hague for the first leg of this Cup Winners' Cup quarterfinal, and Hammers fans may want to cover their ears as we tell you that the half-time score is Den Haag 4, West Ham United 0."

Aarrgghhh! Half-time and already the tie was over. However, we hadn't reckoned on the fact that this was Europe and not a cold night on the Mersey or the Tyne. The Hammers didn't concede another six after the break as they would in the league. No, this was Europe and - despite their limited relationship with the format - European football has always rather suited West Ham United.

In fact, the first half had been an odd affair: a first-half hat trick from Aad Mansveld including two dubious penalties, and a goal scored from a dropped ball that West Ham simply left untouched as a bemused Graham Paddon spoke to the referee trying to find out what had been given. As the referee had already dropped the ball, Lex Schoenmaker simply strode forward, gathered it unchallenged and started running as the West Ham defence funnelled back, exchanging passes just inside the area; Schoenmaker then placed the ball under a confused Mervyn Day. If this had happened today the inquests would have gone on for weeks.

Acting manager Ron Greenwood - John Lyall had been hit by the flu and hadn't travelled - wasn't fazed, though, ordering his team to go out after the break and score a couple of goals to give themselves something to aim at in the return leg at Upton Park. Greenwood knew from good experience that the Boleyn under floodlights, with the crowd standing, singing and chanting, was an imposing place to play for opponents unused to playing on a ground where the supporters could actually touch a player playing wide or taking a throw-in or corner. Ron fancied his team's chances, but they had to hit back quickly. And they did: in the second half, the Irons responded with two goals from Billy "The Fish" Jennings.

Jennings was a handy little striker purchased from Watford in 1974 for 100,000 pounds. He had won a winner's medal at Wembley the year before as the Hammers beat Fulham in the FA Cup final and earned a reputation as someone who was a particularly good header of the ball. In fact, more than that, Jennings - not a particularly tall player - had an odd knack of appearing to hang in the air like a salmon. He was even able to arch himself back and forth quickly to gain height and make the salmon comparisons even more valid.

Claims of the skills of legendary players are notoriously difficult to substantiate, but my uncle Bill - a Docker and ex-Marine who lived in Poplar but who was, nonetheless an admittedly a fanciful man - claims he once saw Jennings rise to a crossed ball in a league match against Leeds and hang there as if on a piece of string for a full two minutes before Jack Charlton tugged his shirt to bring him down and give away a free kick.

Regardless of the dubious veracity of this claim, it was Jennings who was the hero that night. The wonderfully coiffured then-24-year-old was to benefit from two excellent crosses from the cruelly underrated Graham Paddon; one a near-post flick the other a powerful header. They were the most important goals Jennings ever scored for the Hammers, and manager Lyall was spot on when he said after the 4-2 defeat that "We'll do 'em at our place."

Chasing a 4-2 deficit, the second leg was one of the most memorable matches ever played at Upton Park. Under the Boleyn floodlights, atmosphere electric, ground packed and heaving - so loud your ears actually hurt from the noise - and on a bog of a pitch sodden with weeks of heavy rain, West Ham were simply magnificent and blitzed Den Haag with an astounding first-half display, going in 3-0 to the good at half-time with goals from young Frank's old man, Alan Taylor and a Billy Bonds penalty.

The second half wasn't quite one-way traffic but West Ham seemed as comfortable as they ever can when the inevitable happened. Schoenmaker pulled a goal back for the Dutch side 10 minutes from the end and all hell broke loose. With the tie level at 5-5, the Hammers would go through on away goals if the match remained locked, while Den Haag needed just one to see the semifinals.

Cue 10 minutes of panic defending as balls were booted onto the East Stand roof, bodies were thrown in front of anything passed towards Day's goal, while fingernails were bitten to the quick. The 10 minutes seemed to last a lifetime before the ref saw fit to end the heart-stopping drama and blow the whistle. The match ended 5-5 and West Ham went into the semifinal draw on the away-goals rule after having been down and out after 43 minutes of the first match.

It seemed nothing could top that, but the semifinal was to produce another classic - but that's a blog for another week.