With no Premiership or Championship football due to the international break, the FA held their annual Non-League day on Saturday 7th September, encouraging fans without a match to watch grassroots football by supporting their local semi-professional or totally amateur side.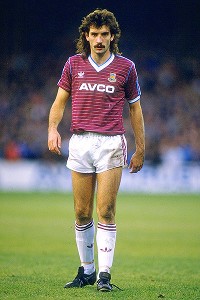 Getty Images: Non-League Day gave the author a chance to see former West Ham player Alan Devonshire, now the manager at Braintree Town.
It's a laudable idea and many UK fans were phoning into the BBC to tell their stories of how they planned to take in a game, huge numbers travelling hundreds of miles to join in the spirit of the idea and catch some football without all the frills on a day that grows in popularity every year.
An excellent website allowed supporters to type in their post code and get a list of all the available matches around them featuring sides in the first league outside the Football League itself -- the Conference League now knows as the Skrill Premier and the regional competitions below that consisting of the Southern and Northern League and Isthmian Leagues.

There were several games taking place within an easy drive from Blagg Acres, but I plumped for the opportunity to watch nearby Braintree Town -- now managed by ex-West Ham and England legend Alan Devonshire -- take on one of the teams tipped for promotion to the big boys come next May, Forest Green Rovers. And a thoroughly enjoyable afternoon it was.

From the cheerful admission fee of 15 pounds -- less than a quarter of what it often costs to watch a top Premiership game -- to the 2-pound programme and the more-than-edible burger costing three pounds, this was a fine afternoon's entertainment blessed by a beautiful autumnal afternoon and teams who spared little as they chased the points in what looks as if it will be a hard-fought league.

The game between Town and Rovers ended 1-1 with the home side getting off to a slow start, falling behind to a sixth-minute James Norwood goal from a Yan Klukowski free kick. Norwood could have had a second but for a superb stop by Braintree keeper Nathan McDonald. But Braintree came more into the game, displaying some of the fine play -- particularly in wide areas, the kind that marked the excellent career of their Manager.

Their equaliser was hotly disputed though, a penalty awarded when a fierce shot by Luke Daley was judged to have been handled by Chris Stokes. Kenny Davis coolly tucked the resulting spot kick into the corner of the net on the stroke of half-time.

The second half was a fiery affair, with Devonshire particularly vocal in the dugout about some of the tackling that was allowed to go unpunished -- Braintree have apparently suffered some harsh cards recently -- and both sides had chances although the best opportunity fell to Town's Ryan Peters, who was denied spectacularly by Forest Green's goalkeeper Sam Russell.

As an example of grass-roots football, this was an encouraging introduction -- I'll freely admit I've never been to a non-league game before -- but I'd happily take some more of this type of thing in. The match-day attendance was 944 -- a little under Town's average apparently, which seems a shame on such a day -- but their were an encouraging number of youngsters in the ground and a fair smattering of shirts of both teams and it was good to see some sizeble traveling support for Forest Green, reminding us that it's not only the league teams that see fans in their minibuses and cars every Saturday.

As a West Ham fan, though, I couldn't help but watch the Braintree manager and recall his own rise to the pinnacle of the game. Purchased by the Hammers in 1976 for 5,000 pounds from non-league Southall, there's probably a good argument for claiming the signing of Alan Devonshire to be one of the best examples of talent-spotting in English football.

'Devo', as he was known on the terraces, simply slotted into the First Division as if he'd played there his whole career, eventually making 358 appearances and scoring 29 goals, the most significant of which was the superb mazy run and shot that gave West Ham the lead in an FA Cup final replay at Elland Road as the Hammers defeated Everton 2-1 to advance to the 1980 Cup Final.

That wasn't the end of Dev's contribution in that competition though, it was his skinning of Pat Rice and Brian Talbot and eventual cross that led to Trevor Brooking's famous header that enabled the Hammers to lift the cup on the back of a 1-0 win over Arsenal. That West Ham side were famously in the Second Division then (now the Championship) and Alan's contribution the following season when the team won promotion back to the top tier with a then record-breaking points haul won the midfielder a promotion medal.

Devonshire won eight caps for England; many thought he deserved more and he would surely have done so had he been playing today. But the midfielder is still regarded as a legend in the East End for his amazing displays for the 1985-86 Hammers side that came so close to the league title, eventually falling four points short as John Lyall's team finished third -- still West Ham's highest finish in the top tier.

What so impressed in that season was that Devonshire had battled back from a cruciate ligament injury that was expected to have finished his career, yet he was at times unplayable in that season, laying on countless opportunities for the goal-scoring due of Tony Cottee and Frank McAvennie.

Sadly those injuries seem to have taken their toll on Devonshire's legs; his exit from the pitch as he took the applause of the home supporters Saturday revealed a marked limp. But fans of both West Ham and now Braintree can be grateful for the services of the man who rose from non-league football and, in it's way, that is as fitting a tribute to Non-League Day as any other.