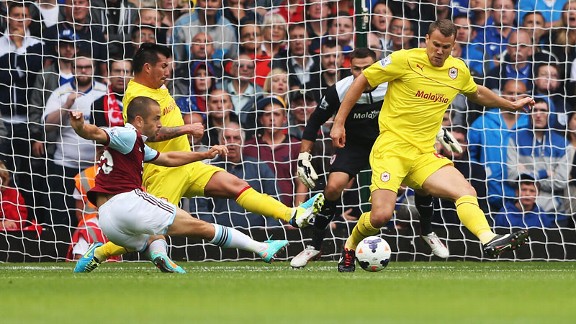 GettyImages: Joe Cole scored from a low cross from Matt Jarvis
.
In an excellent post on ESPN FC, Michael Cox makes the brave attempt of trying to ally football statistics with results and comes up with a fascinating insight into a resource used more and more by managers and coaching staff everywhere, but one which, many believe, comes to naught when applied to 'real life'.
By an odd coincidence, on our opening game articles, having not seen the earlier post by Cox, both myself and Cardiff correspondent Mike Morris made mention of some statistics of our own that we'd noted. Mine concerned the amount of balls charged down by Hammers player's - a tactic that breaks up play and also puts goal-keepers under pressure and one that has resulted in at least two goals being scored in pre-season games - while Morris mentions the old chestnut of non-productive possession over meaningful and incisive football. Perhaps after one game where all possibilities are still currently open, this might be the best time to discuss the current use of statistics in the game, especially - as noted by Cox - as Sam Allardyce is one of the leading exponents in the use of technical data.
Amusingly, in the way that these things go of course, Cox's initial focus falls on the number of 'assist' crosses from Matt Jarvis that were left unconverted last season. In what looks an alarming statistic, it seems the 100 or so crosses provided by Jarvis and, the season before that, by Hammers new boy Stewart Downing not a single goal was scored. It is with a sense of inevitably then that we note the low Jarvis cross that Joe Cole spun on and poked home against the Bluebirds just 12 minutes into the new season. I guess the question is now: will it be another 99 times before that successful combination comes up again? I'd have to say, judging by Downing's performance when he came on for Jarvis in the second half of the game against Cardiff, this looks a little unlikely, with Downing whipping in several good crosses, running the full-back and even beginning the move that allowed Mark Noble the pass for Kevin Nolan's volleyed goal.
While I can see the advantage of using statistical data to find out the distance a player may travel during a game and the usefulness of tying this in with important facts such as the number of passes completed/lost, tackles made etc, evidence of the best method of scoring a goal has always proved to be maddeningly, but understandably, unreliable.
In a team game where any one of eleven players may make a pass, block, save or interception one minute that may result in a goal scored a minute or so later, it seems to me a reliance on statistics is akin to the argument that dictates that an infinite number of monkeys hitting an infinite number of keyboards will eventually produce 'The Merry Wives of Windsor'.
Any statistical analysis of goalscoring now is usually carried out because of the very fact that it is so much harder to score goals than it was a few decades back. Those who can score consistently are now diamonds that need to be paid a great deal of money and nurtured accordingly. While it would be wrong to suggest that strikers of yesterday weren't appreciated and sought after, if you look at the career of someone like, say, Bryan 'Pop' Robson who played for West Ham, Newcastle and Sunderland in a glittering career, scoring 30 odd goals a season on many occasions, you see that Robson inexplicably failed to gain a single England cap. Today, 'Pop' would command the type of transfer fee that makes bank managers blanch.
Then again, a quick look at someone like Robson still tells us much about the art of goal-scoring that reams of data don't. Not a tall player, Robson was deceptively good in the air, while his diminutive stature gave him an innate balance and enabled him to control a ball quickly and with a good deal of agility. Robson's greatest asset though was his instinctive ability to just get into the right place at the right time; an uncanny knack of seemingly being in the available space when an opportunity came up. His ability to 'pop' up with a goal convinced Ron Greenwood to pay the then princely sum of £200,000 for Robson after he had destroyed the West Ham defence in a 2-0 win by Newcastle at Upton Park.
Pop's link up play with Trevor Brooking is the stuff of Upton Park legend, both finding one another without even looking up, knowing that the 'space' would be where the other one was. What would be Pop's worth today? The eyes water just thinking about it, while Roy Hodgson can only dream of the opportunity of being able to pick a 30-goal a season player.
Of course, comparing players from different era's of any sport is an utterly absorbing, conversation-inducing but ultimately pointless exercise that ranks alongside discussing statistics; but it does highlight something that is as crucial to football today as it was when gentleman in top hats kicked a pig's bladder on the green. In short, goal scoring is a much sort after commodity and in that vein, amongst the good number of excellent comments on Michael's blog, is a telling post.
Bemoaning the fact that no-one has yet produced an analysis of an efficient way of scoring, one writer, Dan Kennett, goes on to say "..no-one (in the public domain) has really broken down "Manchester United" yet to look at WHY and HOW they are so efficient..."
Well, I hate to disagree but I think we have - it's just the stats are not seen on a computer matrix that measures passes, crosses or shots on target. Rather this machine measures money and influence and, if seen on a computer, it's usually from someone looking at the Current Account. For the best way of measuring goal scoring, is to look at the quality of the striker.
Manchester United are efficient because they usually have the best players, Robin van Persie having the essential skill to convert a large percentage of balls put through to him regardless of from what direction they travel. The key decision for the coaching staff at Old Trafford isn't to find the best way of getting the ball to the Dutchman but rather to make sure Van Persie is actually in the red shirt of Manchester United when the ball comes to him, rather than that of, say, Arsenal.
So us fans will welcome all the statistics and arguments, it keeps us interested at work and gives us hours of fun in the pub, but in terms of what we can glean from the percentages, the analysis and interpretation, I'm convinced the key lies in the amount of 'pretty green' in the vault. What's more, I suspect we'll have a glowing example of this next May when the colour of Wayne Rooney's shirt may well dictate the destination of the Premier League trophy and, if that happens, no-one will be looking anywhere else to see where his passes come from.