England 0 Italy 0 (AET Italy win 4 - 2 on Penalties)

A 50/50 game I think I suggested on Sunday...oh dear, oh dear, how wrong can you be?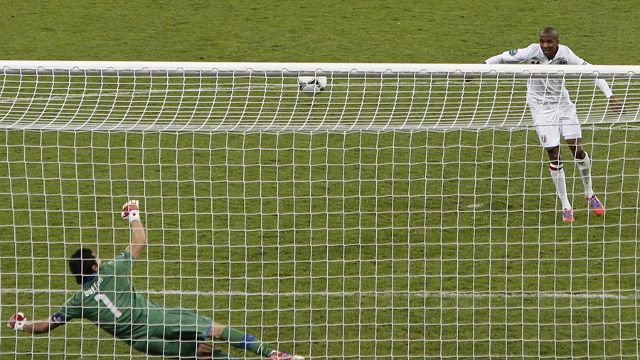 Well, at least I said that Andrea Pirlo would be influential and I think we can certainly say he ran the show. In fact this was a game dominated by Italy for long periods and it's hard to deny that the right team won the penalty shootout. The ESPN stats say Italy struck an astonishing 35 shots on goal with 20 on target; It didn't exactly feel like that - England have so mastered the body thrown in front of the shot tactic that I'm not even sure that counts - but, in terms of possession and domination, there can be no argument as to who bossed the game.
If France didn't look as if they wanted a semi-final place on Saturday, then England can at least claim, perhaps, that they wanted one but just didn't have the skill, ability or nous to achieve it. At least I am assuming that is what we can glean from England's performance on Sunday night, although they spent so long with their back to the wall defending it is quite difficult to know.
England gave the ball away - on the rare occasions they had it, that is - chased shadows and generally looked as if they were playing for penalties from half-time. That they failed and went out again on spot kicks, just produced a rueful smile from this end of the keyboard. This is nowhere near as painful as Italia 90 or Euro 96 and, to be honest, if England had won this on penalties then I think it might have been ever so slightly embarrassing. As it was the miss by Ashley Young at least underlined what a poor tournament he has had, although Ashley Cole perhaps deserved better than to have his crucial last kick easily saved.
Of further interest is the surprising statistic that seems to suggest that the team that misses the first penalty often goes on to win and also that you can talk about the practice you have put in until you are blue in the face but, ultimately, if you're not confident or assured as you step up then you will be found out. Neither Young, Cole or Riccardo Montolivo, who missed Italy's second penalty, looked like they were convinced they would score - play the penalty competition back on the TV and look at their eyes - but ex-West Ham player Allessandro Diamanti looked certain as he came up to slot away the winning kick. (If there was any doubt I saw Diamanti change feet as he took a penalty at Upton Park once).
But back to the game proper, where it all looked so promising in the first ten minutes or so when, first, Claudio Marchisio found Daniele de Rossi to allow the Italian to strike from 25 yards, the ball curving away from Joe Hart's dive, striking the post and flying off to safety. Moments later, England hit back when the excellent Glen Johnson - he had an impressive night - went on a mazy run before laying a pass off to Ashley Young. Young found James Milner who slipped the ball back to Johnson in front of the goal. Unfortunately, the ball seemed to stick under Johnson's feet but he managed to shovel in rather than shoot and Gianluigi Buffon made an excellent save, slightly going back due to the surprise of the shot.
It all looked promising, if not just in terms of match-play but also England hopes, but suddenly after 20 minutes or so Pirlo started to become more influential, the Italian playmaker sending Mario Balotelli through, John Terry making an excellent saving tackle. Even though Wayne Rooney sent a header over, there was an ominous feeling that this was going to become a war of attrition as England fell back in defence and the Italians played it along the line if front of them.
If watching fans thought the half-time whistle would enable England to re-group and take some of the possession back from Italy, then we were sadly mistaken as the second half soon became a game of Italian flair and pressure and England obstinacy and never-say-die attitude.
As I expressed earlier in the tournament, I have no trouble with watching excellent defending - and England might possibly be the best team I've ever seen at it - but there has to be some point in funnelling backwards all the time, and watching England hoof the ball up in the hope that someone would hold it, only to see it flying back in from the wings, was becoming a depressing sight.
Riccardo Montolivo sent a pass over the England defence and it dropped for Balotelli, but he could only volley straight to Hart. Then at the other end, Danny Welbeck had a good opportunity from a Rooney pass but hit it over when he should have done better. Balotelli kicked a post after missing an opportunity involving Pirlo and Antonio Cassano but at least he was involved while England's front man Rooney was having a miserable night - if he'd kicked a post it would have been the closest he came to the goal all night!
In the second half, England were almost behind straight after the interval when Marchisio's pass to De Rossi in the penalty area only saw the Italian midfielder volley wide from short distance when he had more time than he obviously realised. With Pirlo now at the back virtually dictating where play would go next, it was desperate defending as John Terry denied Balotelli at the far-post before Hart did well to stop De Rossi's long-range effort and also Balotelli's follow-up. Montolivo picked up the loose ball after Hart's second save but his shot was scorched over.
In midfield, Steven Gerrard was involved in some dangerous looking free-kicks, but otherwise the England captain was forced to chase back and harass the Italians - a self-defeating exercise that saw him collapse with cramp with another 20 minutes of the second half still to play. In front of him, Rooney and Young were virtually non-existent as an attacking force, although it was Welbeck who came off to be replaced by Carroll on the hour and Milner who was substituted by Walcott a minute later. Neither substitution provided much respite for England although at least Carroll won some headers, although much good it did him and the rest of the team.
In what might have been a cruel twist of fate for the Italians, a Rooney bicycle kick shortly before the end of normal time could have proved disastrous for the men in blue but the Manchester United player's touch was slightly too early and the ball sailed over the bar. England's paucity of ideas was highlighted when, with seconds on the clock, a throw-in was given back to the Italians to launch a last-minute attack. It seemed to underline just how poor England were at retaining the ball, not just with feet but by hands!
So it went into extra time and, as is so often the way with the extra 30 minutes, the game lost shape and purpose with Italy battering the wall of the English defence and Terry and Co booting it away wherever it would go. However, Antonio Nocerino thought he had won the game six minutes from the end but his header was correctly ruled out for offside, although it was a close thing.
When the whistle went for full-time and the inevitable penalties arrived, there was an odd atmosphere in the Wine Lodge (ha!) where I watched the game. Of all England's players, it is Hart who has looked to gain the most from this tournament - surely on the edge of becoming a real world-class keeper - and the confidence of the talk emanating from the England camp really gave hope that the penalties would all be OK this time out. But it wasn't to be, ensuring that the hoodoo will haunt England for many more tournaments to come but also starkly emphasising that, even when kicking the ball in a line from 12 yards away, England are still not as good as their chief opponents.
The major conclusion - although it's not really something we didn't know before - is that England lack the class of player who can do to a game what Pirlo did for Italy. And it's difficult to see anyone around who might change that.